Hamfest find today: HP59309A Clock
08-14-2016, 03:35 AM
(This post was last modified: 08-14-2016 03:43 AM by Adam Vaughn.)
RE: Hamfest find today: HP59309A Clock
Nice find! I've had a 59309A for several years; acquired it long before I had any idea HP had made calculators! Other than some occasional glitches, it's worked quite well over the years. I have noticed that it tends to drift forwards relative to other clocks I have (most of which are synchronized by the power line). I'm guessing there's some sort of internal adjustment for this (mine is running off of its internal oscillator), but have yet to build up the courage to attempt to tweak it...
As for external power, there is indeed an internal socket for a 9V battery, though HP put all sorts of warnings around it saying something like a leaking battery installed in it would void the warranty (big stuff for a $995 device in 1976!). I'm pretty sure a simple/effective external backup could be made using a battery holder for six D cells wired to a BNC connector (pretty sure center pin is positive, though I have yet to verify this for myself). Anyway, here's a picture of my 59309A: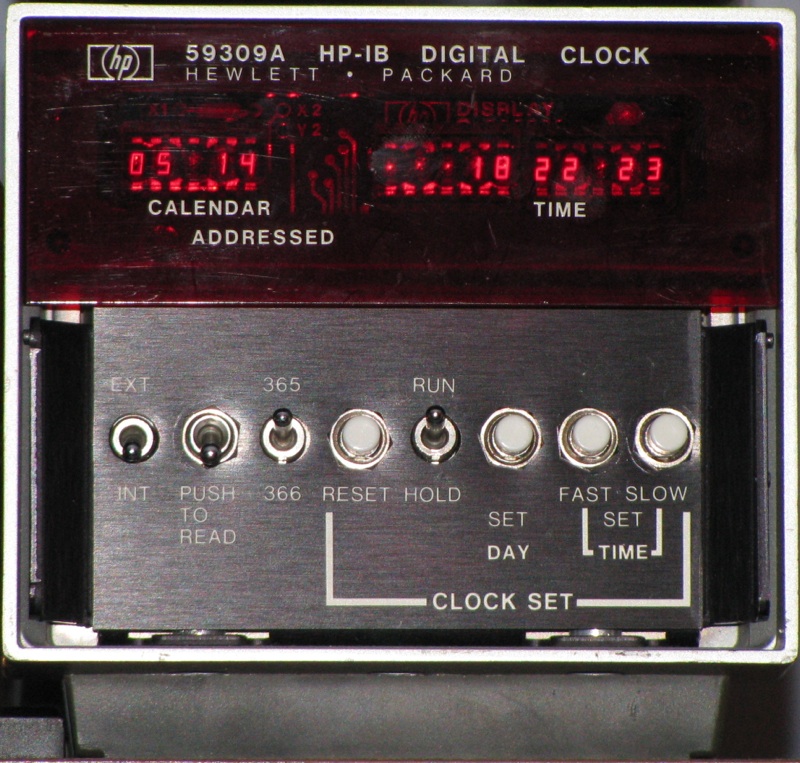 It's been modified with a toggle switch in place of the momentary display on/off button, though the previous owner kindly included the original switch as well as the cover for the button panel. I have yet to use it as a RTC source for any of my computers or calculators, though I may try it with my
HP 85A
if I can find a HPIB module for it. My biggest complaint about it is the use of the tiny calculator digits, though given the fact that the display was probably considered a secondary (tertiary?) function of the unit, it's understandable...
-Adam
User(s) browsing this thread: 1 Guest(s)