05-24-2017, 06:34 AM
(This post was last modified: 05-24-2017 07:21 AM by Geoff Quickfall.)
HP 29E IR GPS What????
A little teaser of the functions from the labs of Panamatik!
Received my HP 29C upgrade from Bernhards' lab. This can be confusing and I recommend you visit Panamatik of you love LED HP calculators. I grew up with them and have been using an HP 29E IR that I put together using Bernhards ACT replacement chip.
Panamatik download site
The GPS upgrade came after my talk on the Woodstocks in the 21st Century at HHC2015
Woodstocks in the 21st Century
I now am a proud owner and user of the HP 29E IR GPS. Translated that is an enhanced HP 29C with Infrared print capability and a built in GPS which sends dynamic (updated over time) data to the memory registers in the 29C.
Now my 29C ACT was dead but the keyboard was good. I had a 25 with a bad keyboard, good PCA with a bad ACT. Turns out that the 25 ROM has a larger alpha capability then the 29 ROM due to the increased functionality of the 29. However, and this is interesting, by using the 25 PCA with functional ROM, the Panamatik ACT programmed as a 29E in combination with the GPS the functions of the GPS can be displayed in alpha plus data.
So the following video is a 29C shell, 25C board, Panamatik ACT with IR and GPS. In the video the following program is demonstrated: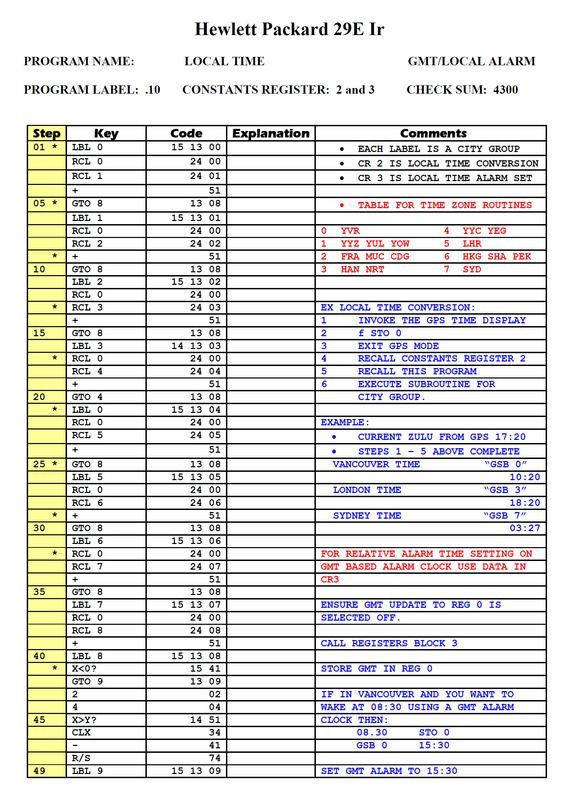 the really neat thing about this that the GPS will deposit by request, dynamically updated data to the register of your choice (0 - 7) dynamically updated GPS data. This program requires ZULU in real time to be placed into REG 0 for use by the program. Each call for REG 0 in the program results in the GPS depositing the latest (equivalent to the time of the program request) ZULU time. Any of the functions can be sent to the registers once the initial f STO x command in GPS mode is invoked.
Here is the youtube video I created today. It is best viewed in 720 mode.
HP 29E IR GPS 'world real time clock'
enjoy
Messages In This Thread
User(s) browsing this thread: 1 Guest(s)