Advertisments from the 80's and 90's
11-05-2018, 04:48 PM
Advertisments from the 80's and 90's
I have found some ads from older HP stuff scanned but am looking from the late 89's to early 90's. Anyone have any from around that time.

reason I', asking is I graduated high school in 1991 and bought my 48sx in 1992. I was trying to remember the ad(s) that made me originally want an HP. I remember either an ad or review in a magazine probably just before 1991 so I'm guessing based on the sales timeline it would have been for the 42s?

I found popular science in google books, some popular electronics in an archive of downloadable pdf's but didn't find any hp calculator ads or reviews. Maybe popular mechanics?
11-05-2018, 05:16 PM
RE: Advertisments from the 80's and 90's
A quick google search returned the "Move 10 years ahead of the class" ad for the 48SX with the HP Solve Equation Library Card that was published in 1990 in several campus journals such as
this one
(page3).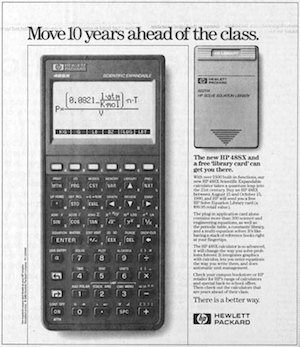 11-05-2018, 09:47 PM
RE: Advertisments from the 80's and 90's
Thats cool, I'll add to my collection, I actually finally got an equation library card, prices are always so high but finally found one with a for parts calculator included.

The one I'm thinking of was color in a magazine. Might have been a full review and maybe not an ad.
11-06-2018, 03:52 AM
RE: Advertisements from the 80's and 90's
From Gene's presentation at HHC 2018, here are a couple galleries with the ads from the timeframe you mentioned (1989-1993). While the ad you were looking for may not be here, there's still lots of other interesting stuff:
https://imgur.com/a/Uo9rwbg
https://imgur.com/a/d0Pj1z1
User(s) browsing this thread: 1 Guest(s)