Call Back Equation Lib Menu
11-18-2020, 08:38 AM
(This post was last modified: 11-18-2020 08:40 AM by CMarangon.)
Call Back Equation Lib Menu
Hello!
(1 minute reading text)
I was making some calculus, testing and remember some formulas, so, in HP50, I accessed EQ LIB.
My dog was barking loud and I went check what was happening.
When I came back I no longer remembered which equation I had used.
Is there something like LAST EQ LIB USED, able to return to the beginning of the operation?
I stopped here:
I need to return to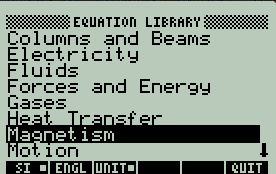 Note:
these screenshoots are merely illustrative.
---
Carlos - Brazil
Time Zone: GMT -3
http://area48.com
User(s) browsing this thread: 1 Guest(s)